If you run an organisation with a brick and mortar office space, it's likely that the most overlooked aspect of your workplace is its landscaping. Forgetting about the garden overgrowing around your office can be detrimental, proper landscaping makes your building more appealing to potential clients, it can differentiate you from your competition and help build a foundation for a relationship with neighbouring offices.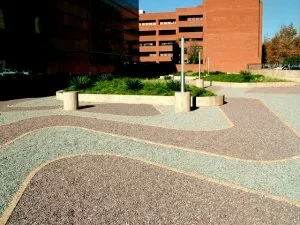 With individuals all over the country more interested than ever in green products and supporting eco-friendly businesses, you can use landscaping to tap into that market. Turning your office into a design of sustainable landscaping helps the environment and shows that you care about the environment, which can do more for your brand than any eloquently written web content could.
Here's how a sustainable landscaping design can make a difference for your organisation.
Smart Landscaping Can Save on Water Wastage
One of the features of a sustainable landscape is that it reduces the quantity of water it needs to grow and thrive, which is excellent for your company's bottom line. When you consider landscaping for water conservation, consider choosing native plants for structure plantings and borders. These plants are adapted to your area's common weather, so they won't need much extra care or irrigation.
Another method to conserve water in your landscaping is to remove large swaths of lawn. A lawn is typically the go-to choice to cover big areas, maintaining it uses up a lot of water and fertilizer, which can run into regional waterways and damage wildlife. Removing the lawn in favour of xeriscaping and native plants protects waterways and saves water for other uses.
Cut Energy Consumption with Shade Trees
Another method to make your organisation's landscaping more environment-friendly is to add shade trees to your office. Deciduous trees like maples and oaks planted on the southern and western sides of your workplace will block the sun's rays throughout the hottest parts of the day in the summer season, which in turn will decrease the quantity of energy you need to use to keep the air conditioning system running. In winter, the trees will lose their leaves and enable the afternoon sun to warm your structure, minimizing your heating costs also.
The cautious planting of shade trees cuts your carbon footprint by cutting your required energy usage, and trees also directly take in Co2 from the environment and release oxygen, which combats harmful greenhouse gases and pollution. Healthy trees improve your property, but they do require some care. Bald areas, discoloration, and peeling are all signs of disease that should be inspected by a professional to maintain the health of your service's sustainable landscape.
Support Regional Ecosystems with Landscaping
When you add trees, shrubs and other native plants to your office, you welcome birds and other animals to find a home in your property. You can support natives by planting some of their food sources. For instance, birds always look for berries and seed pods, while hummingbirds search for nectar sources. King butterflies need milkweed to survive, and you can speak with a regional specialist to discover the best ways to bring in these vibrant animals to your landscape with the right plantings.
Your landscape is also home to millions of small organisms that you can't see, but are crucial for the health of the soil and act as the structure for your little animal community. Soil micro-organisms help break down organic substances and create natural fertilizers for your plants. They aerate the soil and keep it healthy. You can safeguard these crucial bacteria by not using pesticides and chemical fertilizers and in turn, using natural compost to construct healthy soil instead.
When you look at your business, think about how you can make your landscape design greener with some of these ideas. Even the tiniest workspace can gain from some shrubs or a sidewalk planting strip that replaces lawn with environmentally friendly native plants. If you have a big parking area or loading dock, think about employing a landscaper to help you find ways to eliminate some pavement and restore green areas.
These changes will also assist you enhance your brand. When you improve your area, you draw positive attention. Let potential clients know you're dedicated to sustainability with blogs and other digital content for your socials. No doubt they will be impressed your commitment to the environment and those readers could become clients. Sustainable landscaping is the best thing for the environment and for your organisation.